Description
MUST CALL FOR BEST PRICE 209-478-3370
LYRX Supports These High-Quality Karaoke File Types:
MP3+G

Zipped MP3+G

All Video Karaoke Files Such as MP4, AVI, DIVX and Flash (Including HD Versions!)

You can also play standard video files and audio tracks: mp3, m4a, wav, aiff, ogg, cda, flac and more! (Non DRM)

iTunes Playlists are also automatically imported!
Send Lyrics Output To Secondary Display (Full Screen)
Using Extended Desktop Mode on your MAC allows you to send the lyrics to a secondary display or projector – full screen!  This allows you to work with LYRX on your main display, while singers view the lyrics only on the second display.
Robust Music File Browser With Lightning-Quick Search
The LYRX browser will allow you to import and easily manage over 1,000,000 files. Import folders from your hard drive to nest as favorites, add all to a master database list or create user playlists as you wish.  Search-as-you-type to locate songs immediately to send to rotation or load into the LYRX deck.
Simple Singers List
Double-click any track in your LYRX library to instantly send it to rotation. You'll receive a prompt to type in a singers name — which will then appear in the singers list next to the song title.  You can drag and drop to re-arrange your singer order, and simple click the LOAD NEXT SINGER button to load the top song from the singers list into the LYRX deck to play.
Next Singers Display
While the deck is idle and not playing a karaoke or video file, LYRX will display your next three singers from the top of the singers list on the preview screen (main display) and your secondary singers display. This informs your singers who's next, so you you can avoid any potential questions about who's turn it is to sing next.
MIC Support With Recording
Use the microphone input on your audio interface to sing over top the playing audio in LYRX – you'll hear it through your speakers along with the audio from the playing karaoke track.  Record your mixed-output performance to share with friends! (If you're not using a dedicated Audio Card with a microphone input then you can create a 'virtual audio device' on your MAC for Mic Support)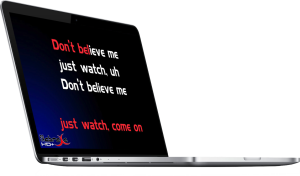 OSX 10.8 (Mountain Lion) or greater

2.5GHz Intel Core 2 Duo / Core 2 Quad / Core i3/i5/i7

4 GIG RAM or Better

Video card: Dedicated Video Card or Intel 3000 series (or Iris) or better

200 MB free on the hard-drive