Description
MUST CALL FOR BEST PRICE:  209-478-3370  TC Helicon No Longer Available at Balloonheads Pro Audio
Sounds to make you stand out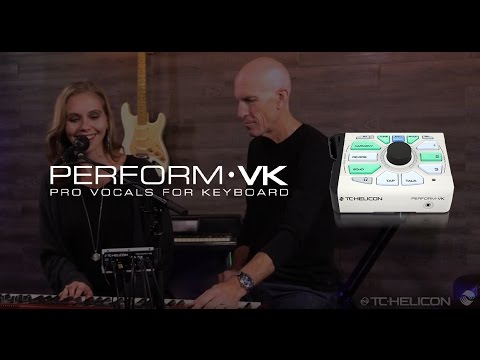 If you're serious about singing, you'll find that sounding your best is about more than talent or vocal technique. It's about taking what is unique about your voice and using the right tools to make it stand out – whether you're live at a venue, a radio session, recording at home, or uploading to YouTube, SoundCloud, Facebook, Instagram, or any of your other favorite social channels.
Perform-VK lets you focus entirely on your love of singing and keyboard while it automatically handles the polish and production values. What formerly required a skilled producer or a dedicated sound engineer can now be set up in seconds, interact with your keyboard, and offer the professional vocal sound that is key to an unforgettable performance.
Harmonize your sound
Whether you use audio or MIDI from your keyboard, our vocal effects engine captures your chord information and creates up to two voices of real time harmony to accompany you. No musical theory required!
If you like to get more complex vocal output, MIDI note driven harmony is also available with direct control of up to 8 simultaneous harmony voices.
Simplicity is Key
Perform-VK pairs perfectly with your keyboard or stage piano to give you stand out vocal effects, mixing and USB multi track audio in one small, easy to use unit.
Creative control at your fingertips
Perfrom-VK allows you to take control of your sound, giving you the power to simulate a physical space with REVERB or put it on repeat with ECHO simply by hitting a button.
In the Studio or on stage
When it's time to hit the studio, Perform-VK's 4 in, 8 out USB audio capability gives you all the flexibility you need to create great recordings in no time. Simultaneously capture dry and wet versions of your vocals, along with harmony voices and your keyboard audio. You can go straight from songwriting to production in much less time.
Polish Your Performance
Add instant clarity with the TONE button. Adaptive EQ, compression, gating and de-ess provide you with professionally polished vocals that ensure you always cut through the mix.
Turn on Anti-feedback and your Perform-VK will be on the prowl for pesky speaker squealing, knocking it out quickly if it does occur.
The PITCH button provides a helping hand by pushing you to the nearest half-note with subtle pitch-correction.
Set and Forget
Perform-VK removes much of the complexity involved with most audio gear. In addition to Tone and Anti-Feedback the Automatic Microphone Input Gain means that setup is as straightforward as plugging in a mic and holding the SET button while you sing. Boom, ready to rock. It even clips onto your mic stand right where you need it.
Ultimate stand-mount vocal processor gives you simple and fast studio-quality sound with expandable effects and keyboard input / output
Built-in Adaptive Tone plus sweet harmony, reverb, and echo effects let you quickly create pro studio quality vocals
Beam additional effects onto three preset buttons, choosing from hundreds of available presets, to perfectly fit your musical style
1/4-inch stereo keyboard input / output lets you have more control at your fingertips with MIDI note and continuous control entry
Multi track 4-in, 8-out USB audio interface for easy recording
Easy HIT function in beamed presets turns on layered effects with a single
Intelligent mic input gain for quick and painless setup
Powerful Anti-Feedback stays on alert for feedback and stops it automatically
Effortless auto-chromatic pitch correction helps you sing in tune
RoomSense mic lets you practice without a mic and automatically controls harmony
Central knob with four-color light ring for easy editing of sounds, settings, mix levels and more
Compatible with remote Mic Control and with optional foot switching through TC HELICON MP-75 or MP-76 Modern Performance Vocal Microphones or Sennheiser* e835 FX microphone and Switch-3 or Switch-6 foot switches
3-Year Warranty Program*
Designed and engineered in Canada